Get More from Your Vancouver Bathroom With a Professional Remodel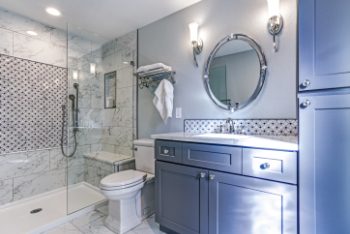 Our bathroom remodeling experts can reinvigorate this important space that you use every day. At M5 Plumbing Services, Inc. we offer innovative ideas for partial or complete bathroom remodels to fit any budget. We deliver quality designs and improved utility plans on all our remodels. You deserve the bathroom you've envisioned. We're the local bathroom remodeling company that will help you realize it.
The Benefits of Renovating Your Bathroom With M5 Plumbing
Bathrooms can be updated to include better storage space, more color, and decorative flair, or added features like a spa-style bathtub. From facets to fixtures, tiling and more, we can create the perfect bathroom design to fit your budget and your needs. We completely remodel common, master, and guest bathrooms, so we'll happily help you transform any of these personal spaces in your home.
What to Expect From Our Bathroom Remodeling Process
Our skilled contractors start by discussing your vision. Once we have a sense of your style and functional needs, we can narrow down the options. We work with you through the whole design process to ensure an outcome you will love. We only use the best brands of fixtures and materials. Our chosen companies offer a wide range of quality design options to choose from. We understand that all the possibilities can feel overwhelming. Our designers are patient and knowledgeable, and they are happy to steer you toward items that fit within your style and that will help you stay on target for your spending goals.
---
Renovate Your Bathroom With These Feature Changes
Tiling Installation
Fixtures and Faucet Replacement
Newly Installed Lighting
Sink Basin Relocation or Replacement
Bathtubs and Shower Installation
Cabinetry Refinishing or Replacement
Vanity Replacement or Installation
Stone Counter Top Installation
Flooring Refinishing or Replacement
Wall and Trim Painting and Texturing
Plumbing Repairs and Replacement
Shower Door Installation
---
Get a Master or Small Bathroom Makeover!
There is a lot that can be done, even for a small bathroom remodeling project. From decorative tiling to space-saving built-in shelving and cabinets, we have solutions to give your small bathrooms added flair. Our master bathroom remodeling can make the space into a relaxation and decompressing area for the end of the day. We can even handle plumbing add ons if you are considering adding an additional bathroom to your home.
---
Quality Bathroom Remodeling in Vancouver Starts Here
Every detail matters. From offering materials with the longest warranties to guaranteeing all our work, we care about quality. Our skilled craftsmen get the work done on time and on a budget, but always with an eye for excellence. That is why our customers have been telling their friends and family about us.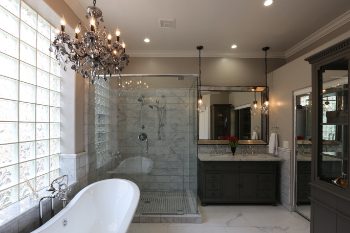 Our company hires hand-picked, skilled craftsman. Our years in the plumbing business coupled with our experience as general contractors make us uniquely qualified to create gorgeous, functional, flawless bathrooms. Whether you need a second sink and more storage space for a growing family, or you are showing off your personal style, we deliver quality excellence you can count on.
Contact Us For Bathroom Renovations Today
As a locally-owned and operated business, we care about your home like it was our own. Our work is only as good as you say it is. That is why we take the necessary time to understand your desires and design a bathroom that is perfect for you. Our team works efficiently to minimize the interruption in your house. We have the experienced crew to create stunning bathroom designs without going over budget or over out estimates time-frame. Don't wait any longer. Get the bathroom you've always dreamed of. Just call or contact us today to get started!