Gresham's Kitchen and Bathroom Remodeling Experts
Home kitchen and bathroom remodeling can be a complicated and drawn-out process, especially if you are new to the experience. However, with M5 Plumbing Services Inc., you won't have to worry about half-finished projects or maintenance issues down the road. The kitchen and bathroom are a great way to make changes and add space and design to your home. With M5 Plumbing Services Inc., you can rest assured that your remodel will turn into the best project in your home. We specialize in kitchen and bathroom remodeling in Gresham with a wide variety of styles and designs that are well-suited for your personal needs. Call us today to start a bathroom or kitchen project that will invigorate and add value to your home. We also provide excellent plumbing services and water heater repair in Gresham for your home!
We'll Bring Your Kitchen Remodeling Dreams to Life
A kitchen renovation can create more space and storage and make this relevant and useful room more inviting. More space in the kitchen will allow more effortless movement and access for cooking, baking, and preparing meals and snacks for you and your family. A new kitchen can also brighten an entire house, depending on the color scheme you decide.
Kitchen remodeling isn't a one-step job. At M5 Plumbing Services Inc., our primary goal is to provide you with the kitchen you want, at the best price possible. That's why we work closely with you through every step in the remodeling process. Your new kitchen starts right here, with a consultation from one of our remodeling specialists. Here are some of the ways we ensure the finished project is what you want and need:
We consult with you and take space measurements: You've got limited space, and we want to help you make the most of it. A consultation allows us to speak with you in-depth about your needs. You wouldn't be remodeling if you didn't already have something in mind. Depending on your budget, existing layout, and space constraints, we will help you to narrow down your options. If the sky is the limit, we work with that too.
Our designers model your new kitchen for you: We never go to work without a plan, and we don't draft blueprints until you've given the go-ahead. A representation of your kitchen allows you to see the finished product. This way, you can make any changes to the layout or style before work begins. Once you approve the plan, we'll create a detailed blueprint of your new kitchen remodel and get to work.
Our craftsmen remodel your kitchen: We'll provide an educated estimate to completion. Because every rebuilds different, there is no baseline. Our technicians know how long each portion of a remodel typically takes, and since our company only hires experienced remodelers and specialists, we work efficiently. That allows us to maintain complete accuracy while working at a high pace. You'll get your remodeled kitchen in no time, and we'll thoroughly clean and sanitize before we declare a job finished. Afterward, we'll take you on a personal tour of your newly remodeled kitchen.
What are Some Low-Cost Kitchen Renovation Options?
Cabinet refacing and refinishing. Instead of getting new cabinets, we can refinish your existing cabinets. According to your needs, we will change the hardware, re-stain or repaint the cabinets, and can even put on new facing. Facing is the exterior portion of the cabinet drawers and cabinet. We can add a wood veneer of a different species so that your cabinets look brand new without having to replace the entire thing.
Use recycled materials and hardware. New isn't always the look you want. Many homeowners seek out interesting antique pieces for sink basins, faucets, or even tiling for backsplashes. Using old barn wood in a kitchen is an exciting and affordable way to create an entirely new look on a budget. If you're interested in forgoing new materials and hardware in favor of a truly unique look, we're happy to help you bring it all together.
Kitchen remodeling options include:
New flooring or existing floor refinishing.
Appliance installation.
Window installation.
Tile and backsplash installation.
New cabinetry and hardware or cabinet refinishing.
New faucets, sinks, and plumbing.
Wall and ceiling painting.
Kitchen bump-outs and extensions.
New lighting and lighting rewiring.
Custom shelving, islands, and counter-tops.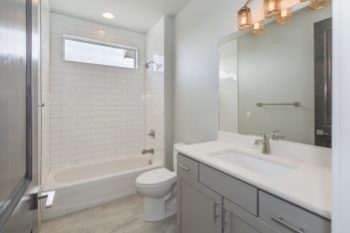 Bathroom Remodeling Gresham
For a bathroom remodel, many of the same benefits apply. More bathroom space and storage makes it easier to do many of things you have to do every day. Plus, additional bathroom counter space gives you the room to add features you always wanted. A brighter bathroom is much more relaxing than a small, dark bathroom, and can even work to improve your mood each morning and night. Adding a walk-in shower or closet and moving a water heater can add to that brightness as well.
Quick and easy remodeling for Gresham homes
For the best in Kitchen and Bathroom Remodeling Gresham services in Gresham, contact M5 Plumbing Services Inc. today. We have staff expertly trained in Kitchen and Bathroom Remodeling in Gresham and plumbing services! They are knowledgeable about the many different remodel methods and styles, and we will help you get a kitchen or bathroom that you can be proud of for a long time into the future. If you are thinking about Kitchen and Bathroom Remodeling Gresham, contact M5 Plumbing Services Inc. today, and we can get started as soon as possible.