Ready to give your kitchen a modern facelift? You're at the right place! In this article, we'll walk you through some must-have kitchen remodeling ideas.
From custom islands to sleek stainless-steel appliances, we've got you covered. And don't worry, we're not forgetting the smaller details like elegant lighting and storage.
So, roll up your sleeves. It's time to transform your kitchen overhaul into the culinary space you've always dreamed of – stylish, functional, and unmistakably you.
Build a Custom Kitchen Island
You'll need creativity in spades when you start to build your custom kitchen island. Think about the overall function you want it to serve. Is it purely for meal prep, or do you envision it as a gathering spot for family and friends?
Consider your kitchen's layout and size. It's crucial to maintain a comfortable traffic flow. Don't forget to integrate storage solutions into the design. Drawers and customized shelving options under the counter can hide away utensils or small appliances.
As for the surface, choose a quality material that's durable yet eye-catching. Quartz and granite are popular choices.
And finally, decide on the perfect height. Comfort, after all, is key.
Stainless Steel Appliance Installation
You've got three stainless steel appliances to choose from, but you can't decide between a refrigerator or an oven. Don't fret. Let's break it down.
The refrigerator, with its modern design, will create a sleek, clean look in your kitchen. It's energy-efficient, ensuring you're saving on electricity while keeping your food fresh.
On the other hand, a stainless steel oven exudes a professional vibe, hinting at gourmet meals to come. It's easy to clean and resistant to heat damage and staining.
Still stuck? Consider the dishwasher. It's the unsung hero of kitchen appliances, saving you time and energy.
Whatever you choose, stainless steel appliances will upgrade your kitchen's style and functionality. Your choice depends on your priorities – whether it's food preservation, cooking, or cleanup.
Add a Pop of Color in Your New Cabinet Installation
In your new kitchen remodel, don't be afraid to add a pop of color to your cabinets. It's a bold move but one that can pay off with a unique, stylish look. You're not just choosing a cabinet color; you're setting the mood of your kitchen.
Consider a vibrant teal or a warm ochre. Both shades can provide a dramatic contrast, especially with stainless steel appliances. You can even play with two-toned cabinets, perhaps a darker hue on the bottom and a lighter one on top. This creates visual interest and breaks up the monotony.
Get New Hardwood Flooring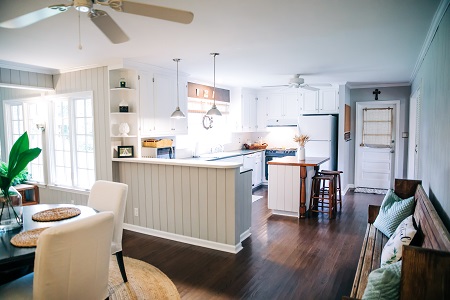 After deciding on the color of your custom cabinets, it's time to get new hardwood flooring installation, which won't only enhance the look of your kitchen but also add to its functionality. Hardwood flooring is a timeless choice, offering a warm, inviting atmosphere that complements any kitchen design.
Here are four things to consider:
1. Type of Wood: Oak, maple, and cherry are popular for their durability and natural grain beauty.
2. Finish: A high-gloss finish reflects light, while a matte finish hides scratches well.
3. Color: Darker shades add elegance, light tones offer a casual look, and gray tones are trendy.
4. Pattern: Straight is traditional, diagonal adds dynamism, and herringbone exudes sophistication.
Your decision will have a significant impact, making your kitchen more than just a cooking space. It's an art project, and you're the artist!
Don't Forget About Changing the Lighting
While you're caught up in picking out hardwood flooring, don't forget about changing the lighting as well because it can truly transform the ambiance of your kitchen.
Imagine dimmable recessed lights that create a warm, inviting glow when you're sipping coffee in the morning.
Picture a stylish pendant light over the island, providing focused illumination for cooking yet doubling as a conversation piece when you're entertaining.
Consider under-cabinet lighting; it's not just practical for meal prep, but it also highlights the beauty of your countertops.
And don't overlook the impact of a well-placed wall sconce or two, adding a dash of elegance and charm.
Each lighting decision you make will layer the light, adding depth and dimension to your kitchen.
With the right lighting, your kitchen becomes more than just a room—it's your sanctuary.
Install Classy Bay Windows
You're going to love the added charm that classy bay windows bring to your kitchen space. It's not just about aesthetics but also the practical benefits they offer. Here's what you can expect:
1. Natural Light: Bay windows let in a lot of sunlight, brightening up your kitchen and making it feel more open and spacious.
2. Extra Space: The window's design creates a cozy nook, perfect for a breakfast area or additional storage.
3. Ventilation: They can be opened from different angles, facilitating better air circulation.
4. View: Overlooking your garden or street gives a great view while you cook.
A kitchen remodel isn't complete without considering bay windows. They're a stylish, functional addition that you'll surely appreciate.
You Could Always Use More Storage and Why Not Customize It to Your Kitchen
Customizing storage options in your kitchen can enhance its look and maximize your space and cooking efficiency. Imagine your pots and pans hanging elegantly from a ceiling rack or your spices neatly aligned in a pull-out drawer next to the stove. You'll appreciate the convenience of having everything within reach, not to mention the aesthetic appeal.
Consider installing floating shelves for an open, airy vibe. Alternatively, opt for glass-faced cabinets to display your best china. A kitchen island with built-in drawers can provide extra utensil storage. You can even use the space above your fridge creatively. Every nook and cranny can be a potential storage spot. With a little imagination, you'll turn your kitchen into a functional and stylish haven.
M5 Plumbing Services Can Build Your Dream Kitchen
Through expert design and craftsmanship, M5 Plumbing Services can transform your current kitchen design into the dream space you've always envisioned. We listen to your needs, understand your concerns, and tailor our services to create a craftsman-style kitchen that's beyond what you've imagined.
Here are four things we can do for you:
1. Custom Kitchen Cabinets: Whether it's refinishing your old cabinets or installing new ones, we've got you covered.
2. Plumbing Redesign: Our kitchen renovation contractors can relocate your faucet and sink for a more efficient layout.
3. Beautiful countertop Installation: We can install beautiful, sturdy stone countertops that will enhance your kitchen's look.
4. Custom Storage Design: Need more storage? We can design custom storage solutions that fit your unique needs.
With M5 Plumbing Services, your complete kitchen makeover is within reach!
Contact us today so our design team can get started on your complete kitchen remodeling project. We always strive for complete customer satisfaction.
Other services our team of professionals provides:
Bathroom Remodeling Service

Gas Line Installation

Water Heater Installation and Repair

Plumbing Additions and Add-ons

And More
Visit our About Us page for more information about our plumbing and remodeling company.