As Jean-Paul Sartre once wrote, "Every moment is a fresh beginning." And this New Year's is the perfect moment to start fresh on a winter bathroom remodel with M5 Plumbing. It might sound crazy, but the astute homeowner knows that bathroom remodeling in Vancouver during winter has some distinct advantages. Winter bathroom remodeling can provide significant benefits and money-saving opportunities, from avoiding construction delays to enjoying more affordable home improvement prices. This article will explore why you should consider undertaking a significant renovation when temperatures drop. So without further ado, read on!
1. Avoid the Summer Rush of Other Homeowners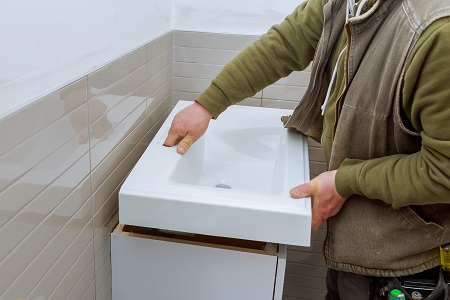 You might consider a remodel when it's warmer, and the weather feels more conducive to renovation. But starting a bathroom overhaul in the spring and summer becomes a slog of finding the right remodeling contractors. Everyone rushes to begin their projects during these months, and getting your project on the calendar is hard.
In Vancouver, many remodeling contractors are booked up months in advance come April. You can take advantage of shorter lead times since winter is traditionally a slower time for contractors and subcontractors. Even better, while everyone else is scrambling to finish projects in the summer swelter, you can sit back and relax, knowing your winter was a success.
2. Enjoy Cheaper Prices and Bigger Savings
Because the traditional home improvement season sees costs skyrocket on quality materials, labor and more, the installation cost is lower. However, during the cooler months of December through February, there's less demand for bathroom remodeling services. What results is an advantageous situation where you can get better deals on the materials and labor you need to complete your project.
Furthermore, you can cash in on holiday deals for custom showers, lavatories, vanities and more. This means you can get significant savings on your winter bathroom project but with the same expert installation. So a winter bathroom remodel isn't just practical — it's also wallet-friendly!
3. Bad Weather? No Problem!
Winter weather can wreak havoc on many outdoor projects, but bathroom remodeling is a primarily indoor project that doesn't have to worry about the cold rain and snow. Since there's no risk of cold rain or snow slowing progress, you don't need to worry about weather-related delays. The result? Your bathroom remodeling experts can finish larger projects faster and without as much disruption to your daily routine.
The risk of delays on summer projects can drag out the project timeline, but when you choose a winter to remodel, you also choose a season when the experts can provide top-flight service. It's a win-win! That advantage alone can seal the deal on why winter bathroom remodels are a great idea.
4. Increase Energy and Water Efficiency
Alright, mea culpa. This might not be a winter-only advantage, but we'd be remiss not to mention that a dream bathroom would not be complete without increasing its efficiency. It's certainly a larger project, but if we're tearing up a bathroom, we should leave no stone unturned. More efficient appliances are the game's name, and a toilet plus showerhead that uses less water to save more money is always groovy.
Moreover, energy-efficient lighting and water heaters can also help you save money over time. With lower utility bills each month, your winter bathroom will pay dividends for years. So if you're considering a bathroom remodel, consider updating all the parts and pieces that go into keeping the lights on and the water warm.
Ideas for Winter Bathroom Remodels That Will Add Value To Your Home!
Still searching for project ideas this winter? Here are a few suggestions to get you started:
1. Update your Vanity – A new vanity can completely transform the look of your bathroom and add value to your home. Consider swapping out your old one for something more modern, like a floating vanity with a sleek countertop in a bright, neutral color.
2. Install New Fixtures – If you want to add a touch of luxury to your bathroom, consider replacing old fixtures with more modern ones. Change your faucets for something more stylish, or replace a basic light fixture with a bright chandelier.
3. Install Heated Floors – Installing heated floors in your bathroom is an excellent way to make the most of the winter months and add value to your home. This is a great way to stay warm and cozy during the year's coldest days!
4. Swap Out Your Shower – If you want maximum impact with minimal effort, consider replacing your existing shower with an updated version in a modern style. A frameless glass enclosure or a luxurious rainfall showerhead can take your bathroom from mundane to magnificent in an instant.
M5 Plumbing Are Your Local Bathroom Remodeling Expert in Vancouver!
If you're looking for top-notch bathroom remodeling services in Vancouver, M5 Plumbing is a perfect choice. Our team of experienced professionals can help you design and install your dream bathroom while offering competitive prices and personalized service. We specialize in bathroom renovations, from demolition and installation to plumbing and vanity installation. Contact us today via our website or at (503) 926-6039.